Category
新着情報
J a p a n e s e  S a k e
Japanese sake which is congenial to various dishes is representative of the liquor during meal. It particularly goes well with seafood and soy sause flavor.
It is said that sake is the best liquor to support your meals.

【JunmaiDaiginjo】
■Furoku 1800ml
■Furoku 720ml
Elegant yet firm fragrance. The taste is deep and smooth after sufficient aging at low temperature. This sake makes us feel the essence of traditional Japanese culture.
Idejozoten kainokaiun junmaidaiginjo Furoku
【Daiginjo】
■Daiginjo 1800ml
■Daiginjo 720ml
■Daiginjo 180ml
Spreading well balanced taste and gentle fruity aroma. Slightly sour and clean yet expansive taste. It slips smoothly in the mouth, leaving a refreshing finish.
idejyozoten kainokaiun sake fuji daiginjo
【Junmaiginjo】
■Junmaiginjo 1800ml
■Junmaiginjo 720ml
The soft and fruity aroma are released at the moment of pouring. The taste is thick, crisp, and dry. Fresh acidity harmonizes with the clear taste. Clean aftertaste and refreshing aroma remain in the mouth.
idejyozoten kainokaiun sake fuji daiginjo
【Ginjo】
■Ginjo 1800ml
■Ginjo 720ml
■Ginjo 180ml
Gorgeous Ginjo aroma reminds of fruits. The taste is clean and deep. The applelike acidity tightens the balance, resulting in an elegant aftertaste.
idejyozoten kainokaiun sake fuji daiginjo
【Tokubetsu Junmai】
■Hokuroku 1800ml
■Hokuroku 720ml
Brewed with technique of Ginjo types, it reminds of clear spring water. Smooth mouthfeel and fruity flavor. Desirable balance of lightness and richness.
idejyozoten kainokaiun sake fuji daiginj
kainokaiun tokubetujyunmai hokuroku
【Junmaiginjo Sparkling】
■Hokuroku Sparkling 720ml
■Hokuroku Sparkling 360ml
Authentic Junmaiginjo sparkling sake, secondarily fermented in a bottle. Slightly sweet. Fine bubbles come up with fresh Ginjo aroma.
idejyozoten kainokaiun sake fuji daiginjo
kainokaiun hokuroku sparkring
【Junmai】
■Junmai 1800ml
■Junmai 720ml
■Junmai 180ml
All brewed from locally grown rice. Soft fragrance, smooth and fine mouthfeel, and rich umami flavor. The taste will become even deeper and wider when warmed.
idejyozoten kainokaiun sake fuji daiginjo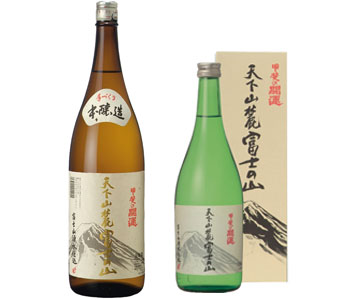 【Honjozo】
■Tenkasanroku Fujinoyama 1800ml
■Tenkasanroku Fujinoyama 720ml
A masterpiece of 'KainoKaiun'. A smooth and firm taste with refreshing sharpness. This is sake that makes your meal enjoyable. Delicious at any temperature.
idejyozoten kainokaiun sake fuji daiginjo
【Umeshu】
■Umeshu 1800ml
■Umeshu 500ml
■Umeshu 300ml
■Umeshu 180ml
■Umeshu Cup with a plum 160ml
Plum liqueur made with sake. Special manufacturing method brings refreshing sourness and rich aroma in modest sweetness. It is also recommended to mix with sake or carbonated water. Good as an aperitif or dessert.
idejyozoten kainokaiun sake fuji daiginjo
【Junmai Umakara】
■Daiyuhou Mt. Fuji Bottle 360ml
Rich and dry Junmai. Brewed with kojiof unique making method and aged over a year. The rich taste and aroma make it suitable for meals. Botteled in a cute Mt. Fuji bottle.